As I discover my new look, well..really find it (very 80s punk rock mixed with nerd)..and nothing caught my eye to write about in a story at the moment (aka suggestions would be very very helpful!) I decided to do a Worst and Best Dressed list from the 2012 MTV VMAs. Unfortunaely I was not able to watch but Michael Buckley had an excellent recap up on his What the Buck channel so go check that out!
This list is taken from
Yahoo OMGs list
, and added by other sites which I will link to.
Jessica Szhor, from Gossip Girls mixed black and animal print. In style, yes. Like this?
Not so much. Now, if she had it on her shoes, or even a sash belt, awesome and a best dressed.
Rita Ora of Roc Nation (musical group). She's a singer, presumbly rock based on name..but I don't really know. She wore a silver metallic (these colors, in style yes) with a black sheer panel down the front. Black, an always Do color but sheer should be kept for tights, stockings and wraps/covers over more "thick" clothes. This:
Just looks trashy.
Nicki Minaj, popstar super star. I don't think anyways surprised this lingerie inspired lace black and red get-up topped with a police cap is on this list. Come to think of it, has she ever been on a Best list? Great idea (minus the cap) for the bedroom, an awards show? Not so much.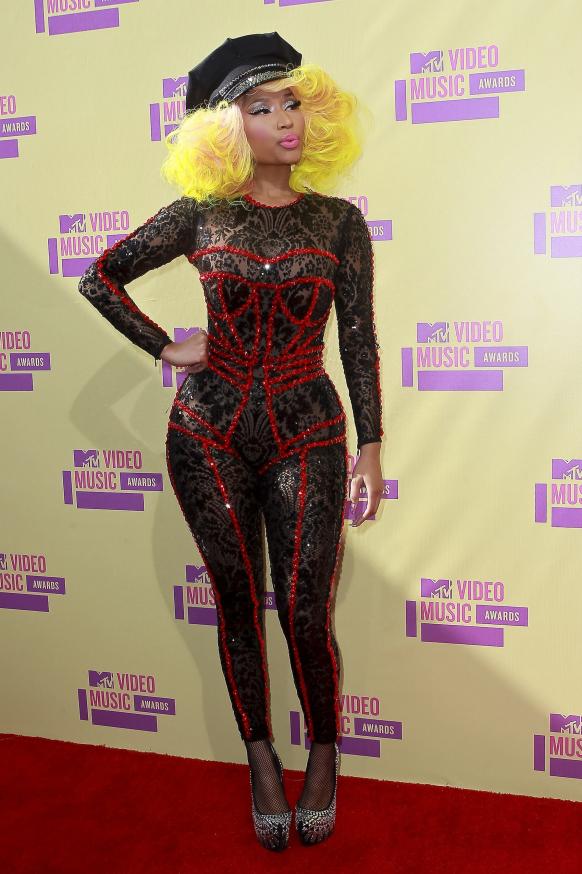 Amber Rose, model and singer and fiancee Wiz Khalifia, up coming rapper featured on anyone whose someones album (ie Adam Levine/Maroon 5 and a few others) showed up in a black lace/nude dresss whole he wore a suit at least 2 sizes too small. Suit, a classic. Sizing, not so much.
Unlike Nicki, Alicia can usually be found on best lists, even when she wears a fedora. But here, she wore a silver (in) gown that was just slightly too boxy for her petite frame. Not a terrible worse, but she could have flatter herself a bit more than what this dress does for her: